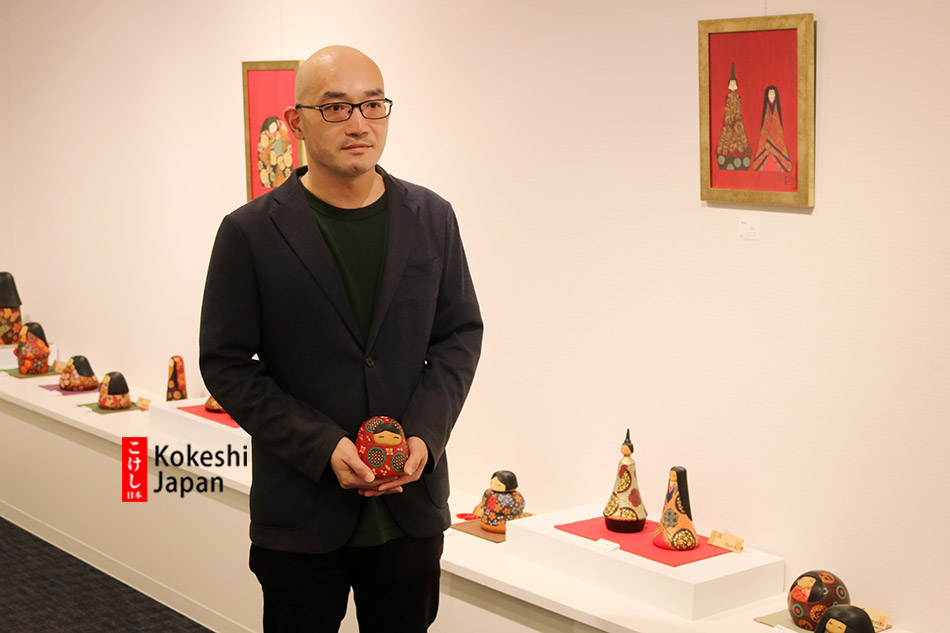 Watanabe Kunihiko
(1978-)

Bio & Awards
Born in 1978 in Shiroishi city, Miyagi prefecture. 3rd generation to a family of kokeshi artists he's the grandson of Masao Watanabe and son of Watanabe Yuji. Brimming with talent Kunihiko is known for making elegant and beautiful kokeshi dolls while also experimenting with whimsical and amazingly adorable cat dolls that are adored and sought after by collectors in Japan and abroad.
Message from Watanabe Kunihiko to the readers:
The warmth of the zelkova wood that can be felt through its color and grain, the softness of it as it becomes rounded on the lathe and carving this beautiful material into a kokeshi with a radiant smile day by day with my entire heart is what brings joy and healing to my life.
Prizes (partial list)
2006 – All Japan Kokeshi Contest Forestry Agency Chief Award
2006 – National Modern Kokeshi Exhibition Japan Kokeshi Association Award
2007 – All Japan Kokeshi Contest Small and Medium Enterprise Agency Chief Award
2007 – National Modern Kokeshi Exhibition Japan Kokeshi Association Award
2008 – National Modern Kokeshi Exhibition Minister of Education, Culture, Sports, Science and Technology Award
2017 – All Japan Kokeshi Contest Ministry of Land, Infrastructure, Transport and Tourism award
2018 – All Japan Kokeshi Contest Minister of Education, Culture, Sports, Science and Technology Award
2022 – All Japan Kokeshi Contest Minister of Education, Culture, Sports, Science and Technology Award
2023 – All Japan Kokeshi Contest Sendai Chamber of Commerce Award
Available Dolls for Sale
Private Collection
(Not for sale)
Enjoy some of the kokeshi dolls that are in my private collection